Access Direct Site Services Ltd has over 16 years experience of providing access solutions for activities involving working at height, within confined spaces and in areas of restricted access.
Thorough confined space rescue training linked to the rescue techniques developed for the specialist working at height activities that we conduct has allowed us to develop rescue procedures that ensure the safe evacuation of injured personnel from any area of work to a safe zone where further medical aid can be administered.
From small works cover to complete site logistics all Emergency Response Services are individually tailored to the clients and workplace requirements.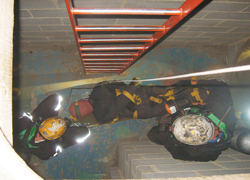 A comprehensive package of services is offered including:
1. Confined Space and Working at Height Consultation
Investigation of current site competencies and equipment
Investigation of current site logistics
Investigation of current site contractor provision
Recommendations to ensure adherence to legislation
Assessment of confined spaces and working at height areas
2. Provision of rescue teams
Highly competent operatives trained and experienced in both confined space and working at height rescue
Emergency Medical Technicians (EMT)
Integration into current site systems of work
Supply of all required equipment
Provision of rescue plans for all areas and works being undertaken